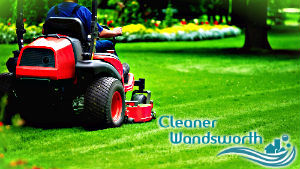 Grass cutting is an important procedure that ensures your lawn is well-maintained and healthy. However, the improper cutting technique is often a reason for yellow or brown patches. Overgrown grass is also not pleasing to the eye and ruins all your efforts to make the house exterior look nice.
If you need any assistance with the grass cutting performance and you are based in Wandsworth, then you have nothing to worry about because we can carry out this project on your behalf. Here is some more information about the benefits you get from booking with us:
Gardening Services in Wandsworth

Price

Lawn Mowing

from

£

45/h

Hedge Trimming

from

£

45/h
Fill the form for a free quote!

Grass Cutting of the Best Quality Wandsworth
Contrary to a popular belief, cutting the grass is not the easiest gardening project. In point of fact, poorly performed mowing is the reason why the grass becomes brown or the weeds grow faster than the grass itself.
If you want to avoid these issues, you just have to entrust our professionals. They are responsible for the gardening maintenance in hundreds of SW18 – based commercial and residential properties. They always use the most powerful gardening tools to achieve the desired outstanding results. Every grass cutting service comprises of:
Assessment of the lawn
Cutting the grass
Dealing with any problematic areas and bald patches
Recommending a proper maintenance technique
Disposal of the waste
" I would like to say that I really enjoyed the gardeners who came to my home, to mow my lawn. They came right on time, they were equipped and were very quick and thorough in their work. I enjoyed the result and the price I paid. Great lawn mowing service! " – Samantha
Our professionals will make an evaluation of the condition of the lawn and you will be given a piece of advise on how to limit the weed growth, how to avoid bald patches or how to retain the lawn moisture.
Affordable Grass Cutting Services SW18

If you consider the gardening and lawn maintenance too overwhelming, you can just entrust us with the regular gardening maintenance. A team of experts will visit your property in Wandsworth and grass cutting, tree pruning, fertilising, mulching and many more will be performed on your behalf.
In order to get all these benefits, you just need to get in touch with us. Our operators will give you additional information about any of the services you are interested in. we guarantee that the price estimate you will be provided with will be the best you can find in London.